CNC monitors, Industrial operator interfaces, medical monitors, CRT video displays, and many unsupported OEM video displays and operator interfaces are repairable by our technicians, at a fraction of the cost of replacement.
We can revamp the power supply, and rebuild the deflection circuits to restore your Video display or monitor to proper operation. Troubled by a dim or fuzzy display? We can completely replace your old CRT to restore new performance and squeeze years more life from your CRT video display.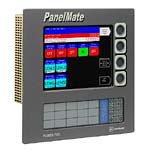 Has your Panelmate display looked dim and fuzzy lately? We can restore new quality performance and save you a boatload of cash in the process. Stop errors and reduce eye strain by restoring your LCD panel display to new performance.